We're celebrating an awards full house!
Our collection of accolades is growing as we celebrate our fourth award win of the season! We are delighted to announce that we have been awarded Silver in the Decanter World Wine Awards for our delicious 2016 Classic Cuvée.
Describing the wine, the Decanter judges said it was: "Unashamedly bracing, with high-wire acidity running through citrus and red fruits, with autolytic complexity gradually unfurling."
Now in its 17th year, the Decanter World Wine Awards is the world's largest and most influential wine competition. Judged by the top wine experts from around the globe, the awards are trusted internationally for a rigorous judging process. We have a small amount of stock remaining of our 2016 limited-edition wine so order yours now before it's gone from our shop and try it for yourself!
Every wine is a winner!
We're pinching ourselves because this latest win means that each and every wine we are selling today is now an award-winner. At this year's WineGB Awards, our Classic Cuvée 2017 was awarded a prestigious Silver medal whilst our Pinot Noir Brut Rosé 2018 achieved Bronze. Completing our victorious quadruple, our Seyval Blanc Reserve 2017 picked up a Silver medal at the Independent English Wine Awards.
We're delighted to have enjoyed such success just one year after we first started selling our wines. We hope that this recognition will start to put the Saffron Region on the map as an emerging centre for viticulture excellence. We are proud to grow our vines in a region which has all the qualities suited to growing such exceptional grapes: cool, dry climate, long summers and a rare, chalky soil formation providing excellent drainage. The result is a tempting selection of delicious and refined quality English Sparkling Wines for you to enjoy.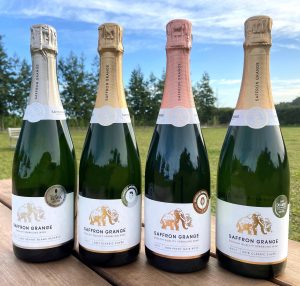 Let us know what you think
We love hearing the glowing feedback from the judges about our wines, but more important to us is to hear what you, our valued customers, think. You can share your reviews with us on Facebook or chat to us on Instagram using the hashtag #SaffronGrange.