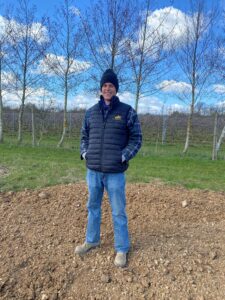 This Spring we were delighted to welcome our very first Apprentice to the Saffron Grange team. Paul Harrison joins us as part of a new viticulture apprenticeship programme supported by Plumpton viticulture college. Find out more about Paul, and the work he will be doing at the vineyard.  
Hi Paul, tell us a bit more about yourself! 
After taking some time out to go travelling, I decided to do the sensible thing and get a job. I moved to London and qualified as a Member of the Royal Institution of Chartered Surveyors and then spent 10 years working in the property industry.  
What led you to work at Saffron Grange? Why are you interested in a career in viticulture?  
I grew up in rural Lincolnshire, working on a farm throughout my teens and after university and, whilst I loved my time in London, I missed the 'simple' life of farming. I realised I was far more suited to working on the land, than working in the city! A career in viticulture really appealed – I love the history, specialism, innovation and attention to detail that is inherent in the industry. The sheer passion, care and love that goes into producing quality wines was something that really attracted me and ultimately inspired me to completely change direction. 
What has been the most surprising thing you've learnt since working at Saffron Grange?  
I was really looking forward to making the move, so I guess the surprise was that I enjoy it even more than I thought I would!  
What jobs and tasks have you been getting involved with?  
I'm getting involved in all aspects of vineyard management – things like trellis management to improve the performance of each vine, grass seeding and frost damage prevention preparation – one of the most critical jobs at this time of year. I would be lying if I didn't say that the job of tasting our products is one I particularly enjoy! 
How are you balancing your work with studying?  
My course has only recently started and we have been keeping a diary of our working days. My first week at the college involved lots of note–taking and I'm now going through this to put it into a helpful format to reference whilst working on the vineyard. I think the workload will become more intense once we are set assignments in the coming weeks, but I'm looking forward to learning more.  
What is your favourite Saffron Grange wine?  
So far, I would definitely say the 2017 Classic Cuvée – it's absolutely delicious and so versatile – I've been really surprised by how well it goes with lots of different foods. 
What has been your favourite wildlife encounter at Saffron Grange?  
Being in the open air all day is an absolute pleasure and we're lucky to regularly encounter wildlife, from rabbits to deer and lots more. If I had to pick my favourites, then it would have to be seeing the bees and butterflies emerging, as well as regular encounters with our resident kite!