Creating the Saffron Grange taste
People often ask us about the Saffron Grange taste – the distinct naturally fruit-driven, fresh, vibrancy for which our wines are now being celebrated. Creating this unique taste is our raison d'être. It distinguishes us from others – both at home and abroad – and consumes our thoughts for most of the year. Why? Well, the truth is that everything we do at the vineyard has an impact on the final taste of our premium quality sparkling wines. From our dedication to achieving the perfect grape ripeness thanks to our dry climate and chalky soils to the gentle pressing of our clean, disease-free fruit and expert winemaking.
But there is one final process that must be completed before our wines can be corked after disgorging: the dosage process.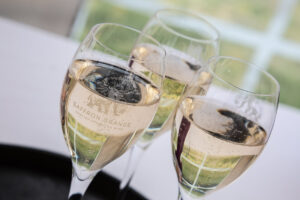 The history of dosage
Like most things in the sparkling wine world, dosage originated in France. Originally, champagne was produced with high levels of added sugar to create a sweet dessert wine with limited bubbles, but by the 1800's wine merchants began asking the French houses to produce a lighter, dryer style of Champagne for the English market now so widely appreciated.
Today the 'traditional method' results in very dry style wines with low residual levels of sugar after bottle fermentation has completed. The controlled addition of dosage liqueur directly into the bottle before corking is critical to ensure that the wine can continue to develop further character and balance from ageing.
Dosage liqueur consists of small amounts of sugar blended with either the same wine from the bottle (our select method), reserve wines or the winemaker's own blend.
The quantity of sugar added varies according to the style of sparkling wine:
Doux more than 50 grams of sugar per litre
Demi-sec 32-50 grams of sugar per litre
Sec 17-32 grams of sugar per litre
Extra dry 12-17 grams of sugar per litre
Brut less than 12 grams of sugar per litre
Extra brut 0-6 grams of sugar per litre
Brut nature or zéro dosage contains zero dosage or less than 3 grams of sugar per litre
A full family affair
At Saffron Grange, the dosage process normally takes place in the first couple of months of the year, and our whole team comes together to get involved. This year, due to Covid restrictions we completed the dosage process virtually with our experienced winemaker. We each taste the wines at different sugar levels, typically starting low and then gradually getting higher.
At each stage we discuss the taste: we compare it to previous vintages, explore differences and similarities, and agree any adjustments that need to be made. We are constantly surprised and delighted by the flavours that emerge during this fascinating process – this year, we were all blown away by the complexity of the 2018 vintages.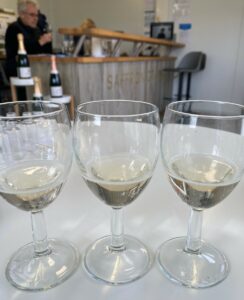 The secret to a good dosage
The true secret to good dosage trials is building progressive knowledge and understanding of the complexity of taste from each harvest year.
Making a final decision can be challenging and it would be fair to say there can sometimes be differences of opinion amongst the team. After all, it is all subjective and our tastes and preferences do of course vary. But a clear view of what constitutes the Saffron Grange taste is our guide, and this iterative process of tasting small differences in the sugar levels, leads us to a unanimous choice in the end.
When it comes to creating new wines, one of the wonders of life at Saffron Grange is that every year is a new opportunity, with different base wines and surprising, complex flavours emerging. We look forward to sharing our latest vintages with you in what looks set to be a fresh and vibrant 2021!