We're simply fizzing with excitement to tell you about the latest addition to the Saffron Grange family of English sparkling wines, grown right here in the heart of the Saffron region. Our new Sparkling Pinot Noir Rosé – available now – is very special: a premium quality rosé made from 100% Pinot Noir grapes.
Rose gold in colour, this luxurious brut wine gives the flavour of ripe red berries and candied red apple on the nose, leading to stone fruits and strawberry sherbet on the palette finishing with a hint of white pepper spice.
A noble variety of grape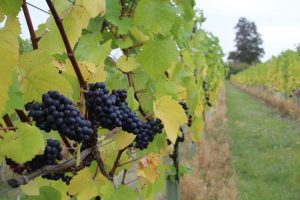 The Pinot Noir grape from which our new rosé derives is one of the three red noble varieties of grape, traditionally associated with only the highest quality wines. Noble grapes – unlike the more widespread hybrid varieties – are said to retain their character wherever they are planted. However, until recent years it has been quite rare to see these grown outside of France.
We're delighted to have had real success establishing our Pinot Noir vines on our gently sloping hills just outside of Saffron Walden in North-West Essex. The Saffron region, in which our grapes grow, has all the qualities suited to growing such exceptional grapes: cool, dry climate, long summers and a rare, chalky soil formation providing excellent drainage. The result is a refined, delicious drink that can be enjoyed with savoury and sweet foods alike, such as sweet and spicy marinated meats or a rhubarb tart.
Sensuously fragrant
The Pinot Noir variety of grape is particularly challenging to cultivate, but it's worth the effort: the grape simply bursts with flavour. Here is how it is described by Decanter magazine: '
"Pinot Noir is one of the most sensuously fragrant red grapes in the world with a variety of scented aromas based on red berry characters closest to raspberry and strawberry, and often tinged with incense and cola-like (!) spice. It can be a little minty and vegetal but when ripe usually tastes of raspberry or strawberry as well as cherry and, when exotic, loganberry, mulberry and fraise du bois. If overripe, it becomes jammy. As it matures in bottle, it often develops silky textures and alluring undertones of truffles, game and leather."
Let us know what you think
The new wine stands proudly alongside our existing Sparkling Rosé , giving our customers even more choice . Last year's release of Sparkling Rosé was a sell out, and we hope that you enjoy this new release just as much. We'd love to hear what you think – you can share your reviews with us on Facebook or chat to us on Instagram using the hashtag #SaffronGrangeRose.