Already enjoyed one of our tours, but want to return again to sample our latest wines? Or perhaps you've not yet had a chance to taste our wines and want to try before you buy? Or perhaps you can think of nothing better than a leisurely sunny afternoon, sipping some of the finest English Sparkling wines whilst taking in the stunning countryside scenery? 
If that sounds like you then the new Saffron Grange Try Flight experience is just the ticket this summer! What is it? A chance to sample all three of our latest sparkling wines at your leisure in our new tasting tent or outdoor seating area, whilst receiving a personal briefing from one of our passionate team on what it is that makes each wine so delicious and unique. 
A tasting experience with a difference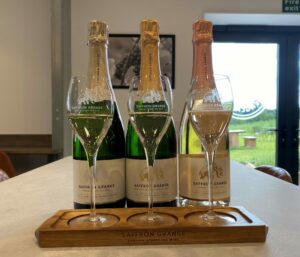 For the uninitiated, a wine flight refers to a unique tasting experience which compares a group of different wines, that all have a certain similarity – in our case, that fruit-driven vibrancy for which our wines are known.  
Tasting each of the wines in one session allows you to discover new flavours, subtleties, and complexities in the taste than you might not otherwise discover in tasting a wine on its own. 
The Saffron Grange Try Flight experience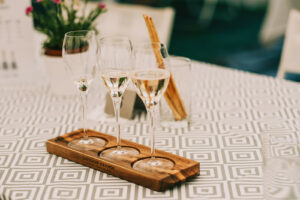 During the Try Flight experience, you will receive a tasting sheet with information on each of the wines and a knowledgeable member of the team will walk you through the tasting method, highlighting the special characteristics of each wine to look out for, before leaving you to enjoy your Try Flight session at leisure. 
Guests will be able to kick back and relax in our beautiful countryside surroundings. We also offer a range of bar snacks to purchase, from olives to premium crisps from local company Savour Smiths – each snack picked to pair beautifully with our wines.  
Our shop is open from 10am – 4pm, Monday – Saturday so you can also pick up a bottle of your favourite wine, or pick up a treat from our gift shop while you visit. 
The Saffron Grange Try Flight is just £8.50 per person and is available Monday – Saturday from 10.00am – 4.00pm. No need to book.
For more information please email vineyard@saffrongrange.com or call and speak to one of the team on 01799 516597.