Paul Edwards, Owner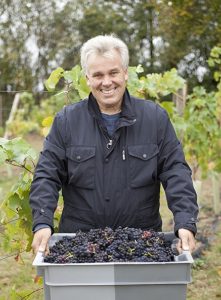 Saffron Grange was the vision of Paul Edwards, the vineyard owner.
After decades living and travelling abroad for his career in the food and drinks industry, he returned to the county of his childhood, Essex, and began searching for the perfect location to begin his new venture.
Paul is now using his extensive experience in product development and his incredible attention for detail to create some of the highest quality English sparkling wines available.
Since 2008, he has left no stone un-turned in his quest to create the best possible conditions for Saffron Grange's vines to thrive. It is through his expertise, dedication and relentless perseverance, that the vineyard is now producing such high-quality grapes.
For Paul, the vineyard is far more than just a job. It is his personal mission to inspire both his family and the wider local community to create a new wine landscape and business opportunity for the Saffron region and leave a legacy for many years to come.
Ross Edwards, Director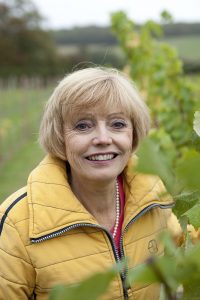 Ross, Paul's wife fully supports the vision to create a wine landscape in Saffron Walden. The family has always been interested in international cuisine having spent a number of years living and travelling across Far East Asia and more recently France where they enjoyed holidays sharing delicious meals and great wine. Ross enjoys keeping fit and loves walking around the vineyard everyday closely followed by the family springer spaniel Gunner. Ross is an active member of the local community and is a great help coordinating the troops at harvest and helping with the organisation of other events at Saffron Grange. She very much looks forward to welcoming new visitors to our beautiful vineyard location.
Paul Harrison, Vineyard Manager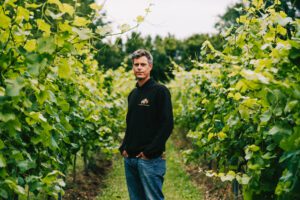 As Vineyard Manager Paul is in charge of the team of seasonal workers, who are essential in nurturing the vines, from root to canopy. After a career as a Chartered Surveyor, Paul followed his passion by moving into viticulture and is currently studying Viticulture at Plumpton College, the UK Centre of Excellence for wine.
Paul's passion is to create an ethical and sustainable vineyard, placing great emphasis on nurturing its valuable ecosystem; creating the perfect conditions for nature and wildlife to thrive.
Aimie Edwards, Operations Manager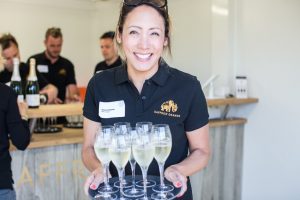 Aimie is Paul's daughter-in-law and responsible for the marketing and wider operations of Saffron Grange.
Aimie has spent the last 10 years studying towards gaining various wine marketing and WSET level qualifications in her spare time whilst working in both the commercial and charity sector.
Aimie is excited to be part of the team at Saffron Grange and helped to oversee the launch of the vineyard's long-awaited sparkling wines to the public.
Matthieu Elzinga, Winemaker
Matthieu has a wealth of experience and passion when it comes to wine-making, both in France and the UK. We are so proud that our wines are crafted by highly qualified winemaker Matthieu Elzinga of Litmus Wines. Matthieu has been wholeheartedly welcomed into the Saffron Grange team to offer his unrivalled expertise and help us create our first commercial vintage Saffron Grange sparkling wines.
Nick Edwards, Sales Manager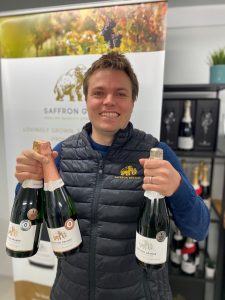 Nick, Paul's youngest son joined the Saffron Grange team in late 2020 after a career in IT and Telecoms where he most recently was a Bid Director. He, like all of the family, has always played an active role at the vineyard and is excited to be formally onboard and focussing on Sales. You will meet Nick either at the market or when you pop in to the shop. He is looking forward to continuing his wine studies to add to his existing knowledge and passion for English Sparkling Wine.
Duncan McNeill, Viticultural Consultant
Duncan trained in New Zealand where he managed vineyards in the Central Otago region, before returning to Europe to take up a post working on a family run wine estate in the Rheinland Pfalz region of Germany.
He has an unrivalled knowledge of building and establishing vineyards and has overseen the planting of hundreds of acres of vines across southern England. His expert know-how has been invaluable in developing the right technologies and techniques we need in our unique climate, to enable our vines to produce the finest quality grapes.
Our volunteers
From day one, the vision was for Saffron Grange to be a vineyard our whole community could feel proud of.
Our volunteers are a huge part of our success, as well as being our fiercest critics – something for which we thank them, because it is their feedback that has helped us develop Saffron Grange into what it is today.
Each year, we are privileged to be joined by over 80 local residents who help us at harvest, carefully hand-picking the grapes ready to be pressed, fermented and bottled. They are a fundamental part of our success and we look forward to growing the team in the years to come.
Gunner, our resident Springer Spaniel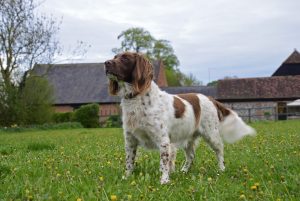 Our team would not be complete without everybody's best friend: Gunner, the vineyard dog.
Gunner is the Saffron Grange's most energetic team member. He is often spotted weaving in and out of the vines thanks to his wagging, white tail. Gunner's favourite past time is greeting new guests with the warmest, most enthusiastic of welcomes in exchange for a pat on the head and a game of ball.