Saffron Grange recently partnered with the charity Creating Nature's Corridors to plant over 500 trees in our vineyard, as part of a campaign to rewild nature's corridors.
Supporting and promoting the local ecosystem is a priority for our entire team so we welcomed the opportunity to work with the charity, which aims to plant over 10,000 trees and hedges across the UK every year.
The charity's goals align closely with our own: to encourage biodiversity and carbon capture and create an improved environment for wildlife and the local community.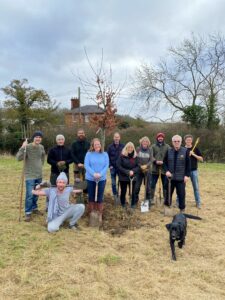 The project saw us create a new copse of 59 native trees next to our winery, which will create a stunning space for our visitors to enjoy in the coming years, whilst creating new habitats for local wildlife. The planting includes an oak tree and a row of trees to line our entrance driveway.
A further 500 alders were planted to the north of the vineyard site and will play an important function in vineyard management, creating a natural windbreak, whilst the hedgerows will encourage wildlife to thrive.
The tree whips planted at Saffron Grange were paid for by the general public and by Naturepac which makes sustainable packaging.
A team of volunteers supported the charity and Saffron Grange's teams in a mammoth two-day planting session.
We were delighted to learn that there has been an uplift in tree donations to the charity, and as a result we are excited to plan a further collaboration to plant more trees and hedgerows on site in the near future.  
Vhari Russell. Founder of Creating Nature's Corridors said "I am absolutely delighted to have partnered with the wonderful team at Saffron Grange. They are great guardians for the trees and hedging that we are planting. It was wonderful to plant such an established oak tree that everyone helped to plant in memory of my late brother too. The team at Saffron Grange is so passionate about nature and working the land, whilst supporting nature hand in hand and that is why we are delighted to be working with them. We look forward to planting many more trees in the future."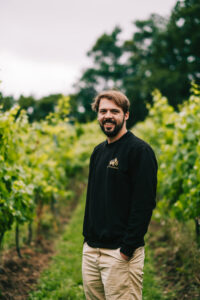 Dan Turner, Saffron Grange's Vineyard Manager said, "Planting specific species of trees and hedgerow that enable birds, butterflies and insects to thrive helps to create a more biodiverse eco-system here at Saffron Grange and further supports our focus on minimal intervention in the vineyard as it helps increases species of predatory insects (which naturally reduce the number of vineyard pests) to thrive. In addition, not only will the planting of new trees and hedgerow improve the landscape for wildlife and the local community for years to come, it will also further increase the vineyard's carbon capturing capability. We are proud and excited to be working with Creating Nature's Corridors in our shared passion for nature and biodiversity and in helping them to achieve their mission to re-wild corridors of land in the UK."