Adrian (and his four-legged friend, Pepper), recently joined Saffron Grange as part of the core Vineyard Team. Since starting, he has been busy working on a variety of different tasks across the vineyard. We sat down to find out a bit more about him and his role.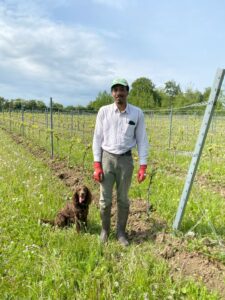 Tell us a bit about yourself (where you come from, where you've worked previously etc) 
I was born and raised in South west London – so working in a rural setting was a career that never crossed my mind! I went to university to study Psychology, Sociology and Anthropology, but quickly realised that I didn't really have any interest in the course. After graduating, I had no clue what to do. Looking for a challenge, I trained in Muaythai (Thaiboxing) and eventually started competing, which allowed me to travel to different parts of England and also spend six months in Thailand.
What led you to work at Saffron Grange? 
After returning from Thailand and trying my hand at office work in London, I realized I wanted to try working outdoors, so I applied for a job working on a city farm. I fell in love with farming and started researching different career options, getting as much experience as I could along the way. I worked on a Dairy farm, sheep farms, commercial fruit farms, a cider farm, market gardens until finally, an opportunity came up to work on a vineyard in Essex, where I spent three years. And so my interest in viticulture began, and the role at Saffron Grange followed!
What has been the most surprising thing you've learnt since working at Saffron Grange?  
How kind and friendly everyone is here! In the short space I've worked here, I have felt very welcomed. I'm having a lovely time working and getting to know how things are run.
What jobs and tasks have you been getting involved with so far?
I have been doing a wide variety of jobs on the vineyard so far, including wire lifting, leaf stripping and crown clearing. My favourite job so far has been lifting wires – I'm a bit of a perfectionist, so I enjoy making the rows look neat! I look forward to getting involved in more aspects of the vineyard, especially the pruning.
What are you most excited about for the future of the vineyard?
I am excited to see the vineyard develop, and the opportunity to keep making great wine. It's exciting to see English wine becoming more popular, whilst working on an English vineyard! I am really interested in seeing how I can help in the growth of the vineyard and what new knowledge I can pick up along the way.